Keramos Ceramisc: A Cultural Approach
İndirimli Fiyat
:
140,00TL
Taksitli fiyat
:
9 x 17,11TL
9786058573048
362353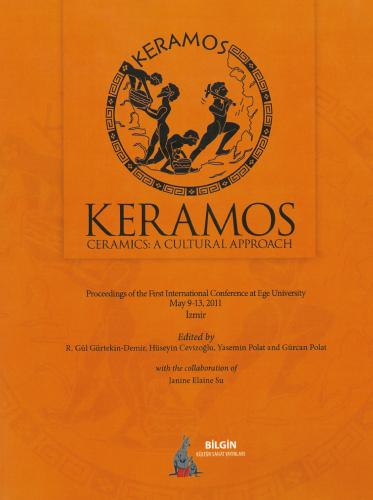 https://www.bilginyayinevi.com/keramos-ceramisc-a-cultural-approach
Keramos Ceramisc: A Cultural Approach
Türkçe-Turkish
Ege Üniversitesi Arkeoloji Bölümü, kurucu öğretim üyeleri ve onların yetiştirdiği akademisyenlerin, diğer alanlardaki çalışmalarının yanı sıra seramik konusunda yürüttüğü araştırmalarıyla da tanınmaktadır. Seramik konusunda üstlenilen bu misyonu, geleneğe dönüşmesini ümit ettiğimiz bir sempozyum ile gelecek nesillere aktarmayı hedefledik. Sempozyumun ismi önemliydi ve amaca uygun bir başlık olmalıydı. Çok düşündük... Sonunda "çömlekçi kili" anlamına gelen ve aynı zamanda "çömlekçilik sanatının kurucusunun ismi olan "KERAMOS", bu görevi üstlendi. 9-13 Mayıs 2011 tarihleri arasında Ege Üniversitesi'nde gerçekleşen ilk sempozyuma, "KERAMOS Seramik: Kültürel Yaklaşım" adı altında genel içerikli bir başlık koyarak, hem sempozyumun geniş bir bilim adamı kitlesine ulaşmasının, hem de beş gün boyunca farklı konuların tartışılmasının önünü açtık. Sempozyumda Türkiye, İngiltere, İtalya, Romanya, Almanya, Avusturya, Avusturalya, Amerika, Kanada, Yunanistan, Rusya, Bulgaristan, Hollanda, Fransa ve Ukrayna gibi dünyanın dört bir yanından gelen farklı uluslara mensup bilim insanları tarafından sunulan 43 sözlü, 15 poster bildiri, sempozyumun amacına ulaştığının en önemli göstergesi olmuştur.
Sempozyumda yer alan antik dünyanın çok kültürlü yapısının incelendiği sunumlar ve tartışmalar, bu tip uluslararası sempozyumların bilim dünyası için ne derece önemli ve gereksinim olduğunu bir kez daha ortaya koymuştur. Konunun duayenleri ile genç bilim insanlarının bir araya getirilerek deneyimlerin, yeni araştırmaların ve yeni görüşlerin paylaşılmasına olanak tanıyan "KERAMOS", seramik konusunda çalışan ve çalışacak olan yeni neslin ufkunu genişletmeyi görev edinmiştir. Özellikle benzer konularda çalışan, her birisi olaya farklı yaklaşım ve bakış açısı kazandıran bilim insanlarının aynı çatı altında bulunmaları, konunun derinlemesine tartışılmasını ve yeni görüşlerin ortaya çıkmasını beraberinde getirmiş ve getirecektir. Sempozyuma gösterilen ilgi ve olumlu geri dönüşler, arkeoloji dünyasındaki bu gereksinime bir kez daha tanıklık etmiş ve "KERAMOS" sempozyumunun sürekliliğini kaçınılmaz hale getirmiştir. Bu kapsamda 4 yılda bir İzmir Ege Üniversitesi ev sahipliğinde yapılması planlanan "KERAMOS" sempozyumunun, seramik konusunda daha özel konuları başlık olarak belirleyerek, arkeoloji dünyasına daha fazla katkı yaparak sürdürülmesi amaçlamaktadır.
İngilizce-English
The Department of Archaeology at Ege University is renowned for its research in various areas, especially for its expertise in ceramic studies. Originally these studies were carried out by the founders of the department and are presently continued by their students, who are now members of the academic staff. We therefore decided to support this tradition of encouraging the next generation of research with the organization of an international conference. The conference name was important and needed to serve our intentions. We thought carefully about this for a period of time … Finally, the title "KERAMOS," which was a constant, was designated to fulfill our mission, and will be retained for future conferences. The Greek word "Keramos" is derived from its meaning, "potter's clay," and was also the name of the founder of ceramic art. The international conference "KERAMOS. Ceramics: A Cultural Approach," held between May 9–13, 2011 at Ege University, gathered scholars studying ceramics either within the field of Classical Archaeology or in related research areas, and gave them the opportunity to share ideas in a variety of arenas. Participating scholars represented various countries, including Australia, Austria, Bulgaria, Canada, France, Germany, Greece, Italy, the
Netherlands, Romania, Russia, Turkey, Ukraine, the United Kingdom and the United States. 43 oral and 15 poster presentations were featured. The discussions and contributions during the conference, which analyzed the multicultural structure of the ancient world, have once again proven how essential this type of international conference is for the scientific world. "KERAMOS" hopes to help extend the horizons of young scholars studying or planning to study ancient ceramics by bringing them together with established scholars to share experiences, recent research and new perspectives. Due to the great interest in, positive feedback on and professional dialogue resulting from the first Keramos Conference, we have all realized how imperative such institutionalized opportunities are to the world of archaeology. Therefore, we aim to promote this type of institution with a quadrennial Keramos Conference, to be housed at Ege University under diverse themes and topics, in order to promote ceramic studies.

Contents
APPROACHING EARLY ARCHAIC ATTICA: A CONTEXTUAL STUDY OF ITS EARLY BLACK-FIGURE POTTERY PRODUCTION
Alexandra Alexandridou
FOURTH-CENTURY BC BLACK AND RED GLOSS POTTERY FROM IASOS: A TECHNOLOGICAL APPROACH
Silvia Amicone
COOKING AND DINING IN LATE PHRYGIAN GORDION
Galya D. Bacheva
"Sikelo-geometric" pottery between indigenous tradition and Greek influences
Marco Camera
KLAZOMENIAN SARCOPHAGUS OR BATHTUB?THE USE OF BATHTUBS IN BURIAL CONTEXTS
Hüseyin Cevizoğlu
LATE ROMAN C WARE/PHOCAEAN RED SLIP POTTERYFROM THE CILICIA SURVEY PROJECT (MISIS), TURKEY
Jane E. Francis
GREY WARE IN SICILY, BETWEEN EAST AND WEST
Massimo Frasca
ROMAN AND BYZANTINE POTTERY FROM THE NORTH-EAST AREA AGORA AT KYME (ALİAĞA, TURKEY). A QUANTITATIVE APPROACH
Vincenzo Di Giovanni
MAGENTA WARE FROM SICILIAN FUNERARY CONTEXTS
Alessandra Granata
BETWEEN LYDIA AND CARIA: IRON AGE POTTERYFROM KALE-I TAVAS, ANCIENT TABAE
R.Gül Gürtekin-Demir, Yasemin Polat
Between adoption and persistence: Two regional types of potteryfrom late classical and early Hellenistic Priene
Lars Heinze
G 2-3 WARE COSMETIC VASES RECONSIDERED: BETWEEN MYCENAEAN AND ARCHAIC GREECE IN THE NECROPOLIS OF HEPHAISTIA ON LEMNOS
Petya Ilieva
POTTERY WORKSHOP ORGANIZATION AND TRANSFORMATION AT THE ARCHAEOLOGICAL SITE OF TIMPONE DELLA MOTTA BETWEEN 800 AND 650 BC: A CASE STUDY FROM NORTHERN CALABRIA, SOUTHERN ITALY
Jan Kindberg Jacobsen, Carmelo Colelli, Gloria Mittica, Søren Handberg
THE JENA DEPOSIT UNDER GLASS: INVESTIGATING THE PRODUCTIONOF A CERAMIC WORKSHOP IN LATE CLASSICAL ATHENS
Kleopatra Kathariou
SOME REMARKS ON NEWLY DISCOVERED GRAVES AT KLAZOMENAI
Seval Konak Tarakçı
Archaic Pottery from PanayIrdağ, Ephesos: new evidence and first results
Alexandra Ch. J. von Miller
ARCHAIC POTTERY OF COASTAL CARIA:FINDS FROM A CREMATION BURIAL AT BYBASSOS
Bekir Özer
A Cultural approach to the study of Late Athenian red-figure potteryfrom the Bosporan kingdom: advantages and disadvantages
Anna Petrakova
Pottery as A proxy indicator for diet change in Late Antique Campania
Girolamo F. De Simone, Caterina Serena Martucci, Gaetana Boemio and Serena D'Italia
A GROUP OF BAND DECORATED CERAMICS FROM THE MENGEFE DISTRICTIN THE CARIA REGION
Ahmet Adil Tırpan, Zafer Korkmaz, Makbule Ekici
LATE ROMAN CERAMICS OF THE DELİ HALİL SETTLEMENTIN THE EAST CILICIA PLAIN
Füsun TÜLEK

EAST GREEK KOTYLAI FROM KLAROS
Onur Zunal
Figures
Açıklama

Türkçe-Turkish

Ege Üniversitesi Arkeoloji Bölümü, kurucu öğretim üyeleri ve onların yetiştirdiği akademisyenlerin, diğer alanlardaki çalışmalarının yanı sıra seramik konusunda yürüttüğü araştırmalarıyla da tanınmaktadır. Seramik konusunda üstlenilen bu misyonu, geleneğe dönüşmesini ümit ettiğimiz bir sempozyum ile gelecek nesillere aktarmayı hedefledik. Sempozyumun ismi önemliydi ve amaca uygun bir başlık olmalıydı. Çok düşündük... Sonunda "çömlekçi kili" anlamına gelen ve aynı zamanda "çömlekçilik sanatının kurucusunun ismi olan "KERAMOS", bu görevi üstlendi. 9-13 Mayıs 2011 tarihleri arasında Ege Üniversitesi'nde gerçekleşen ilk sempozyuma, "KERAMOS Seramik: Kültürel Yaklaşım" adı altında genel içerikli bir başlık koyarak, hem sempozyumun geniş bir bilim adamı kitlesine ulaşmasının, hem de beş gün boyunca farklı konuların tartışılmasının önünü açtık. Sempozyumda Türkiye, İngiltere, İtalya, Romanya, Almanya, Avusturya, Avusturalya, Amerika, Kanada, Yunanistan, Rusya, Bulgaristan, Hollanda, Fransa ve Ukrayna gibi dünyanın dört bir yanından gelen farklı uluslara mensup bilim insanları tarafından sunulan 43 sözlü, 15 poster bildiri, sempozyumun amacına ulaştığının en önemli göstergesi olmuştur.

Sempozyumda yer alan antik dünyanın çok kültürlü yapısının incelendiği sunumlar ve tartışmalar, bu tip uluslararası sempozyumların bilim dünyası için ne derece önemli ve gereksinim olduğunu bir kez daha ortaya koymuştur. Konunun duayenleri ile genç bilim insanlarının bir araya getirilerek deneyimlerin, yeni araştırmaların ve yeni görüşlerin paylaşılmasına olanak tanıyan "KERAMOS", seramik konusunda çalışan ve çalışacak olan yeni neslin ufkunu genişletmeyi görev edinmiştir. Özellikle benzer konularda çalışan, her birisi olaya farklı yaklaşım ve bakış açısı kazandıran bilim insanlarının aynı çatı altında bulunmaları, konunun derinlemesine tartışılmasını ve yeni görüşlerin ortaya çıkmasını beraberinde getirmiş ve getirecektir. Sempozyuma gösterilen ilgi ve olumlu geri dönüşler, arkeoloji dünyasındaki bu gereksinime bir kez daha tanıklık etmiş ve "KERAMOS" sempozyumunun sürekliliğini kaçınılmaz hale getirmiştir. Bu kapsamda 4 yılda bir İzmir Ege Üniversitesi ev sahipliğinde yapılması planlanan "KERAMOS" sempozyumunun, seramik konusunda daha özel konuları başlık olarak belirleyerek, arkeoloji dünyasına daha fazla katkı yaparak sürdürülmesi amaçlamaktadır.

 

İngilizce-English

The Department of Archaeology at Ege University is renowned for its research in various areas, especially for its expertise in ceramic studies. Originally these studies were carried out by the founders of the department and are presently continued by their students, who are now members of the academic staff. We therefore decided to support this tradition of encouraging the next generation of research with the organization of an international conference. The conference name was important and needed to serve our intentions. We thought carefully about this for a period of time … Finally, the title "KERAMOS," which was a constant, was designated to fulfill our mission, and will be retained for future conferences. The Greek word "Keramos" is derived from its meaning, "potter's clay," and was also the name of the founder of ceramic art. The international conference "KERAMOS. Ceramics: A Cultural Approach," held between May 9–13, 2011 at Ege University, gathered scholars studying ceramics either within the field of Classical Archaeology or in related research areas, and gave them the opportunity to share ideas in a variety of arenas. Participating scholars represented various countries, including Australia, Austria, Bulgaria, Canada, France, Germany, Greece, Italy, the
Netherlands, Romania, Russia, Turkey, Ukraine, the United Kingdom and the United States. 43 oral and 15 poster presentations were featured. The discussions and contributions during the conference, which analyzed the multicultural structure of the ancient world, have once again proven how essential this type of international conference is for the scientific world. "KERAMOS" hopes to help extend the horizons of young scholars studying or planning to study ancient ceramics by bringing them together with established scholars to share experiences, recent research and new perspectives. Due to the great interest in, positive feedback on and professional dialogue resulting from the first Keramos Conference, we have all realized how imperative such institutionalized opportunities are to the world of archaeology. Therefore, we aim to promote this type of institution with a quadrennial Keramos Conference, to be housed at Ege University under diverse themes and topics, in order to promote ceramic studies.

 


Contents

APPROACHING EARLY ARCHAIC ATTICA: A CONTEXTUAL STUDY OF ITS EARLY BLACK-FIGURE POTTERY PRODUCTION
Alexandra Alexandridou

FOURTH-CENTURY BC BLACK AND RED GLOSS POTTERY FROM IASOS: A TECHNOLOGICAL APPROACH
Silvia Amicone

COOKING AND DINING IN LATE PHRYGIAN GORDION
Galya D. Bacheva

"Sikelo-geometric" pottery between indigenous tradition and Greek influences
Marco Camera

KLAZOMENIAN SARCOPHAGUS OR BATHTUB?THE USE OF BATHTUBS IN BURIAL CONTEXTS
Hüseyin Cevizoğlu

LATE ROMAN C WARE/PHOCAEAN RED SLIP POTTERYFROM THE CILICIA SURVEY PROJECT (MISIS), TURKEY
Jane E. Francis

GREY WARE IN SICILY, BETWEEN EAST AND WEST
Massimo Frasca

ROMAN AND BYZANTINE POTTERY FROM THE NORTH-EAST AREA AGORA AT KYME (ALİAĞA, TURKEY). A QUANTITATIVE APPROACH
Vincenzo Di Giovanni

MAGENTA WARE FROM SICILIAN FUNERARY CONTEXTS
Alessandra Granata

BETWEEN LYDIA AND CARIA: IRON AGE POTTERYFROM KALE-I TAVAS, ANCIENT TABAE
R.Gül Gürtekin-Demir, Yasemin Polat

Between adoption and persistence: Two regional types of potteryfrom late classical and early Hellenistic Priene
Lars Heinze

G 2-3 WARE COSMETIC VASES RECONSIDERED: BETWEEN MYCENAEAN AND ARCHAIC GREECE IN THE NECROPOLIS OF HEPHAISTIA ON LEMNOS
Petya Ilieva

POTTERY WORKSHOP ORGANIZATION AND TRANSFORMATION AT THE ARCHAEOLOGICAL SITE OF TIMPONE DELLA MOTTA BETWEEN 800 AND 650 BC: A CASE STUDY FROM NORTHERN CALABRIA, SOUTHERN ITALY
Jan Kindberg Jacobsen, Carmelo Colelli, Gloria Mittica, Søren Handberg

THE JENA DEPOSIT UNDER GLASS: INVESTIGATING THE PRODUCTIONOF A CERAMIC WORKSHOP IN LATE CLASSICAL ATHENS
Kleopatra Kathariou

SOME REMARKS ON NEWLY DISCOVERED GRAVES AT KLAZOMENAI
Seval Konak Tarakçı

Archaic Pottery from PanayIrdağ, Ephesos: new evidence and first results
Alexandra Ch. J. von Miller

ARCHAIC POTTERY OF COASTAL CARIA:FINDS FROM A CREMATION BURIAL AT BYBASSOS
Bekir Özer

A Cultural approach to the study of Late Athenian red-figure potteryfrom the Bosporan kingdom: advantages and disadvantages
Anna Petrakova

Pottery as A proxy indicator for diet change in Late Antique Campania
Girolamo F. De Simone, Caterina Serena Martucci, Gaetana Boemio and Serena D'Italia

A GROUP OF BAND DECORATED CERAMICS FROM THE MENGEFE DISTRICTIN THE CARIA REGION
Ahmet Adil Tırpan, Zafer Korkmaz, Makbule Ekici

LATE ROMAN CERAMICS OF THE DELİ HALİL SETTLEMENTIN THE EAST CILICIA PLAIN
Füsun TÜLEK

EAST GREEK KOTYLAI FROM KLAROS
Onur Zunal

Figures

 

Taksit Seçenekleri

Taksit Sayısı

Taksit tutarı

Genel Toplam

Taksit Sayısı

Taksit tutarı

Genel Toplam

Taksit Sayısı

Taksit tutarı

Genel Toplam

Taksit Sayısı

Taksit tutarı

Genel Toplam

Taksit Sayısı

Taksit tutarı

Genel Toplam

Taksit Sayısı

Taksit tutarı

Genel Toplam

Taksit Sayısı

Taksit tutarı

Genel Toplam